Why Eat Pray Love Made Me Go to Bali
Connecting to Eat Pray Love
Who saw Elizabeth Gilbert cry on the bathroom floor in Eat Pray Love? Desperately lost about the direction in life, doubting her marriage, her life purpose and herself?
I fell in love with Eat Pray Love for the first time at the age of 25. I was fully absorbing the book's travel tales and identifying myself with the soul searching quest. Traveling to find myselfsounded incredible and appealed to me on all levels:
– Discovering new cultures and countries
– Discovering myself
– Trying to FEEL myself again, to TASTE good food again, and to use my SENSES again
– Fear of conformity and inner emptiness
– Searching for a unique identity, path, or solution
---
Dreaming of Bali
The movie came out in 2010 and was a classic. As with many books that become movies, "the movie is nothing compared to the book". The movie shows the beautiful landscape pictures and portrays the colourful impressions of Italy, India and Bali.
Julia Roberts was also a perfect fit playing the main character, but the book goes so much deeper into the dark parts of our soul, into the desperate need to find out who we truly are. When others settle down and have kids, we are wondering if there something "wrong" with us.
"Having a child is like getting a tattoo on your face.
You better be committed."
– Eat Pray Love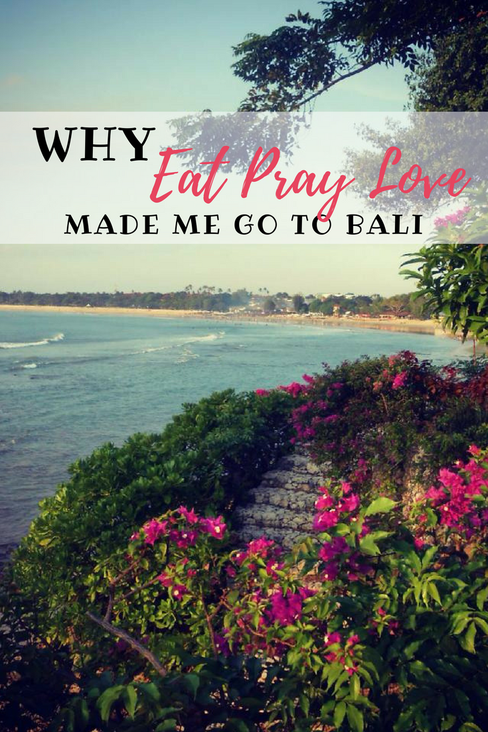 Time pressure kicks in – Women that want to have children feel an urgent need to travel before that, a fear of "missing out". Others don't seem to feel the urge to have a family, but the expectations from others are still there. Having children is the "normal thing" that women are "supposed to do" in their 30s.
Me & my partner: "We've got some news"
Parents: "ooooooh you're pregnant!?"
Me & my partner: "Hmm no,
we are moving countries again!"
Since Eat Pray Love I always dreamed of going to Bali. I loved the nature, the colours, and the spirituality. Bali became a symbol for the "soul searching quest" for me. I wanted to find myself in Bali.
I Felt Lost…
… Like Elizabeth Gilbert. Stories like hers made me believe it's possible. When I was 20 I didn't have the money. When I was 30 I felt like I didn't have the courage any more.
This lingering dream never left me alone, but I was always pushing it away. "I don't have the money", "I don't have the time", and "I can't quit my safe job".
I was planning my round the world trip in particular detail. I knew which places I wanted to visit in Bali. I read everything I could get my hands on about backpacking Asia and Australia. I spent hours in my day job, secretively surfing travel blogs and guesthouse websites, dreaming my days away. I wasn't sure if this is "my thing". What if I would regret it? What if I would lose everything over a stupid idea?
This went on for years and years and years. I was in a relationship with someone that had no intentions to travel long term at all. I was facing a safe future of settling down, having a good job, climbing up the career ladder and taking on responsibility. This felt SO threatening!
What if I miss out on my dreams?
Does this mean I give up on myself?
Will I be able to be happy like this, do I settle for less?
Is this truly me, is this what I want?
I actually had no idea who I am or what I wanted anymore.
"I lost myself in fear of losing you"
– KATY PERRY
The BIG Turning Point
At 29 I said to a bunch of friends: "At 30 I'll either live with my boyfriend or do a round-the-world-trip." It was like a massive decision!  Which life path to choose?  What will truly make me happy?
So, at 29 ½ I moved in with my boyfriend. And with 29 ½, I moved out again. I tried, but it didn't suit me well.
There I was, heart-broken and out of direction.
I moved to another city 3 weeks before.  I barely knew anyone and had left friends, family and furniture behind to try to make this work. Eat Pray Love seemed to be everywhere – On TV, in the bookstore, and on the Internet. It was trying to remind me of my own promise to myself.
I half-heartedly decided to go traveling. "Next year, (later) when I would have enough money saved up", "Only one more year", "As soon as I would feel more confident, and safe." But honestly, this decision felt like I was betraying myself. I had lost and sold my belongings, including my apartment. I got detached from "things" and had to learn to let go. 
Let go of the man I loved, let go of the belongings of my apartment, let go of old dreams and fears. And after I did that, I felt so much lighter.
Falling in Love (with myself)!
When I watched Eat Pray Love again this time, it felt like a calling. I didn't know much about how I wanted to live my life from now on, but I felt like THIS is the way to find out, to find myself again!
I read Eat Pray Love again in 2014 – at the age of 30, in BALI.
When I left on my very own "Eat Pray Love" journey, I took the book with me. I carried it through Africa for 3 months, and took it to Asia with me. I lent it to someone on a boat trip in the Philippines and it fell into the ocean, so I bought a new one!
When I arrived in Bali all by myself and went to all the places Elizabeth Gilbert went on her soul searching quest, I finally started reading the book again and absorbed every word with completely different eyes and a new perspective.
I've been there myself now. I was in the middle of my own search for everything, putting myself together again. Some quotes did hit me hard because they felt so true. I laughed, I cried, I grieved and Eat Pray Love was a huge part of it.
I stayed for one month in Bali, healing, journaling and taking time for myself. I didn't find love in Bali, like Liz Gilbert did, but I was not ready for it yet at all. I found love towards myself again though, which maybe is even more important.
"So this is what you gave everything up for?"
"First of all, this is none of your business any more. And second of all: YES absolutely!"